Newport Vessels 46 lb Trolling Motor Review:
If you love some speed in life, we are in the same boat. For excellent THRUST performance and storage full of fish, this trolling motor is beyond comparison.
Find out what I have to tell about this accessory in my Newport Vessels 46 lb trolling motor review to put an end to your wishy-washy nature about this.
This beauty offers not only speed but quality and reliability at the same time. Let's dig deeper!
Features of Newport Vessels 46 lb trolling motor:
Built-in parts
Like all works of art, it has been great by adding all the great tiny dots. Newport Vessels 46 lb trolling motor could not be good unless the individual parts contained were not good enough.
It is built-in with a 30-inch shaft, 6-inch telescoping tiller handle, 5 LED battery meters, and a 3-blade propeller. The great thing about the motor is it is made such as almost everything starting from the mounting angle, height, and direction can all be adjusted and locked into place when needed.
A circuit breaker is also included in this trolling motor.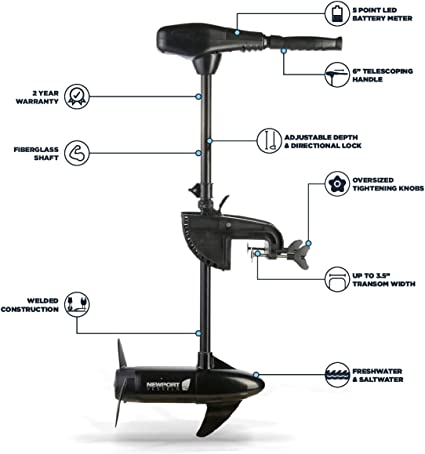 Top speed
It features 5 forward and 3 reverse – 8-speed motors in total giving you 3.5 mph. It is designed for trolling and giving you a break from a boring life. It comes with 3 blade props that do the Physics work for the movement of the boat bringing along the great low-end torque. Optimal performance? Here you get it!
Excellent power
A good trolling motor with less power is no good! It is a 12v electric motor that can give 46lb Thrust. Everything to make a boatman feel powerful on water. And also I had a 50ah battery and ran it at speed 3, it lasted for 4 hours which I found pretty impressive.
Besides, it's super sneaky and quiet. Will you want to take a trolling motor that is loud as while going kayak fishing? I'm sure you don't want to scare the fish. So to make sure you return with a lot of catches, a near-silent but powerful motor is essential for any fisherman for maximum efficiency.
Versatility
If you are like me and don't want to ruin your money on getting different trolling motors for different types of water, just take my advice and get one of these. Any boat, any water, anywhere – they said! After trying it myself, I can tell they really mean it.
They are all ready to withstand both fresh water and saltwater. Also, its 30″ adjustable shaft makes it fit almost any sized boat.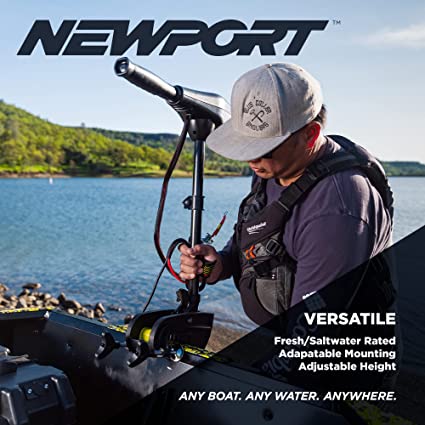 Quality material
All the individual body parts of Newport Vessels trolling motors are built with all the high-quality materials in their fields. They all are corrosion resistant such as stainless steel, fiberglass-made shaft, a sacrificial zinc anode, and a fiberglass reinforced nylon propeller.
In brief, the trolling motor is constructed to ensure a long lifespan whatever you throw at them. Bring it on! I guessed it's going to be good getting the 2-year warranty while buying it, but it will be this good – didn't see it coming!
Easy installation
I found it effortless while installing it with my boats. This is a great green flag for them. I have had many trolling motors before which I found pretty good too. But they were mostly hard to install and eventually being stored like some trash in my home.
So the point is – that nobody at least wants to have trouble installing a simple motor to their boat. Unlike them, this one was comparatively easy. So get this trolling motor and spend more time on fishing, not installing it to your boat.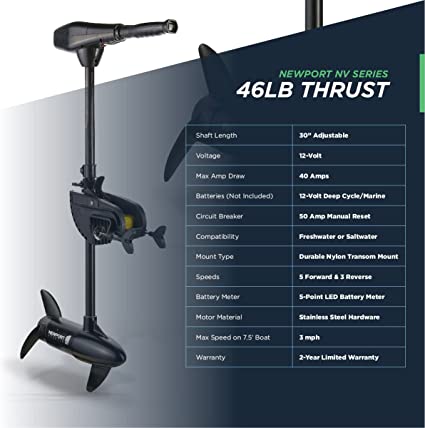 1✅ Near silent operation
2✅ Excellent power
3✅ 2-year warranty
4✅ Height adjust collar
5✅ Corrosion-resistant powder coating
6✅ Directional lock
7✅ Quality material builtQuality material built
8✅ Great speed
9✅ Durable
1
Doesn't include any battery for the motor
FAQ Section:
Do the motor and prop turn around 180 degrees? Also, can the head and handle be turned around 180 degrees (handle pointing to the rear, motor pointing forward)
A: yes, the motor and prop can rotate 180 degrees for reverse.
Can exchange the prop blade with a dual or single instead of the three-blade prop? I just realized it may not fit through the opening in the kayak console.
A: It is the same circumference of the prop regardless it's a three-blade prop or a two-bladed or single-bladed one.
Is this motor waterproof?
A: The head w/ handle is not waterproof. Light rain is fine, but if there is heavy rain, it's submerged or sprayed directly with a hose, this will cause issues.
Final words
If you want some powerful motor that will also not spook away your fish, this trolling motor is your best shot. Make your excursions powerful, easy, and fun with Newport Vessels trolling motors. With its high-durability materials construction, it's going to stick with you for a long time.
2-year warranty is there to have your back if you turn out to be a bit unlucky for some reason. Get it today, Get some speed!