Elkton Outdoors Steelhead Inflatable Fishing Kayak Review:
Since my investment of time and money on this kayak model, I am grinning from ear to ear! And finally, after testing for several months, I'm with Elkton outdoors steelhead inflatable fishing kayak review.
It will give you no scope but to be Euphoric. You don't want to miss this if you are greatly into fishing and stuff! This model is specially built for fishermen and anglers. If fishing is your happy pill, after seeing what I have found out you'll surely crave to get yourself or your loving fishing lover one. Let me lay out everything for you now!
Features of Elkton outdoors steelhead inflatable fishing kayak:
Safety-first design
It has been built with 3 different inflation chambers for the purpose of keeping you safe. The two side chambers and one-floor chamber make sure if something by any chance happens to the kayak while you over it on the water, it will not let you drown. Though a life vest is always advised to keep wearing on the water, you can come back with your vessel safely with the other two inflation chambers still alive!
Grab-and-go convenience
Being an inflatable weighing only 44 pounds, it's super easy to carry or transport. So taking it on a trip or camping doesn't require a lot of time to prepare for that. Neither does it cuts down a lot of space. You can just grab the deflated kayak and the hand pump. There you go! – you are ready to hit the water. This lightweight yet strong kayak will be perfect for angling at any kind of waterholes on any water surface.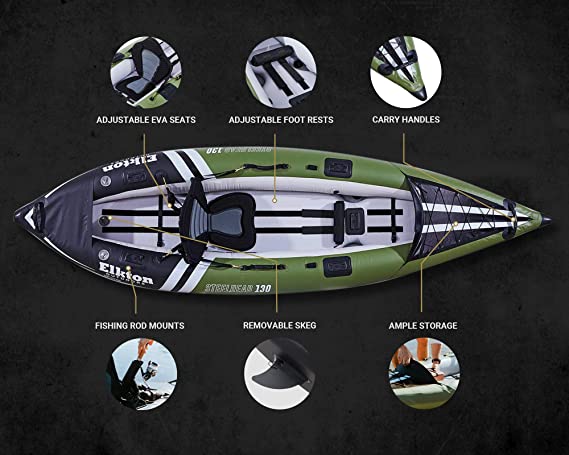 Similar Post: Sea Eagle 330 Review
Stability is ensured by its dimensions
Feeling the inflatable can flip? Take a chill pill! The width of 39.5 inches won't let that happen. You'll be stable enough on the kayak whether you are paddling in choppy water or struggling to control a big alive catch. Your safety is ensured by Elkton outdoors steelhead inflatable fishing kayak. A length of 12.5 ft gives just enough speed not to hamper the balance. This piece of kayak is fully reliable to any fisherman or angler. If you need an any-weather stable kayak for better bait-casting, this is it!
Comfortable hi-rise eva seat
Equipped with a seating capacity of 1, it has a very comfortable and versatile adjustable seat that can move forward or backward to be fitted by any sized paddlers with different heights and weights. You can have comfortable good ol' paddling on lazy water and enjoy the fresh nature while waiting for a fish. Trust me, the seat is real cozy!
Features specially built for fishing
This kayak is designed for people who feel pleasure catching a lot of fish. I could tell it just after seeing the kayak. It is equipped with all the things an angler might find useful to fish. It's like the silent assistance of an angler while going fishing. Starting from its front bungee Storage to fishing rod holders – a lot of them! You can keep your rods attaching steadily on the hard mounting points. If you do love fishing, do grab this piece as well.
Self-draining holes
As this kayak is specially built for fishing, there surely would be some splashing and water will sit in the hull which any of us don't want. Don't worry you don't have to do anything manually – thanks to Its self-bailing scupper holes! They drain all the unpleasing water and keep the boat floating dry. A great feature for any kayak!
Excellent weight capacity
Elkton outdoors steelhead inflatable fishing kayak gives you the luxury of weighing up to 600 pounds with all your stuff. Cast your bait like an expert. The extra weight capacity other than the paddlers' weight and the fishing gears is given so that you, being a professional angler can load the kayak up with all your catches! You can bring multiple fishing rods, an action camera, a fish finder, and other fishing accessories without concerning about the capacity of loading.
Related item: Driftsun Rover 120/220 Review
Super durable construction
This strong vessel is ready-made to keep you safe on rough water. The construction of 1000D reinforced layered PVC makes it bounce off any snag on water. Now no longer rocks and logs can stop you from fishing. You don't have to change your kayak anytime soon and again try to be comfortable with any other model if you get one Elkton outdoors steelhead inflatable fishing kayak. It stays around for many years. Super durable kayak for super anglers!
Comfortable footrests
Not being a hard shell, it doesn't have any molded in multiple footrests. So what! For the paddlers' comfort, it comes with an adjustable one. The angler can adjust the footrest according to his or her height, and comfort. There's plenty of legroom on this kayak. You will not feel stiff anyway fishing with this.
Rigid drop stitch floor
Now this feature was very interesting I thought. This gives extreme stability to the anglers for casting baits. Did I tell you – you can even stand on this inflatable due to this solid drop stitch floor! It allows the angler to have a better position for bait casting.
Huge storage spaces
There's big front bungee storage and a spacious bow and stern area of the kayak. You can take a lot of food and drinks, a camera, an extra dress set and all other things for your necessities and Comfort – can take your dog as well!
Other included accessories
There comes more accessories included that complement the usefulness and self-dependency of the Elkton outdoors steelhead inflatable fishing kayak. A dual-action high-pressure hand pump, a lightweight breakdown paddle, a removable skeg, a backpack strapped travel bag along with an adjustable seat and footrest – says it all! This well-made strong vessel comes with a 1 Year Guarantee on materials, workmanship, and assembly + 30 Day No-Hassle Returns.
Related: Intex Explorer K2 Kayak Review
1✅ The best kayak for fishing
2✅ Super stability & Lightweight body
3✅ Supports tandem kayaking as well
4✅ So many useful accessories included
5✅ Front and rear handles for easy drag
6✅ Multiple fishing rod holders
7✅ Extreme durability
8✅ Comfortable seating
9✅ 1-year guarantee on material
1⛔ The manual of the kayak didn't have much explanation
2⛔ A little expensive
FAQ-Section
• How long does it take to inflate the tandem steelhead kayak?
Takes only a few minutes to inflate!
• Is this kayak good for fishing?
Good? This one is the best for fishing!
• What is the length of the paddles?
The paddles are 90 inches (230cm) long
Final words
I can't recommend a better multi-purpose kayak than this. Genuinely I felt, Elkton outdoors steelhead inflatable fishing kayak has leveled my bar up while reviewing any other kayak.
Don't know which other one will surpass the impression this one has on me, and when that will be! But till now, it felt like this kayak is worth every penny! I'm on cloud nine having this beast in my storage ready to hit the water with me.
This model may feel a bit expensive, but listen up! Spend a little more and get one that will make you feel happy on the water. Stability, safety, storage, durability, accessories – and you name it! You will be breaking a leg with this piece!
It's the magic of science.
To the manufacturer – Bravo!
And to you – Get it, I promise you won't regret!