Bkc tk181 Kayak:
Get all the outdoor fun on the water with this Sit-On-Top Kayak. The length of 12.5 feet gives more than enough space to fit 3 bodies, including a child or a dog. Vacation for the whole family – sounds good no!
Where do I start? This piece has everything you might need to have a blast on your family or friends' vacation. Let me do the honor to dig deeper into this model and give a detailed BKC TK181 12.5′ Tandem Sit On Top Kayak review for your waiting eyes. You don't want to miss it!
Features of BKC TK181 Tandem Sit On Top Kayak:
Two-person Seating capacity
Actually – make it three! This model is equipped with 2 seats and enough space to bring along a child or your favorite furry animal. The seats are made super comfortable with soft pads. Perfect for a long time kayaking and spending quality time with family on a beautiful summer afternoon.
The adjustable straps with the seats are featured for multiple seating positions thinking about the paddlers' full comfort. In the storage area, a smaller paddler can also sit and join the trip comfortably. This model allows complete comfort and support to all the paddlers.
Great stability for its perfect width
BKC TK181 Tandem kayak with a special hull design with flat bottom guarantees your stability even in choppy water and swift currents. The piece along with all the paddlers will stay balanced. Credit goes to its width of 34 inches that prevents the kayak from flipping in any environment.
Lake, river, ocean – wherever you bring it, it'll float your boat everywhere giving you a sense of reliability and security. How can I ignore the contribution of the SOT system of this model adding more points to its stability! It's a capable craft to give superb experience in any condition.
Built-in fishing rod holders
Imagine you are fishing for 1 hour straight holding all the fishing rods you bought. Doesn't sound so exciting. Does it? I can already see the tiredness in your eyes. You don't have to if you got a BKC TK181 Tandem Sit On Top Kayak in your storage.
It's equipped with 4 flush mount rod holders and 3 articulating rod holders giving you the scope to keep multiple baited lines for the fishes at once. Or you can just simply keep the rods away safely and have a pair of free hands to paddle. Whatever you want to do, these built-in rod holders are really useful stuff for any paddler.
You may also like: Ocean Kayak Malibu Two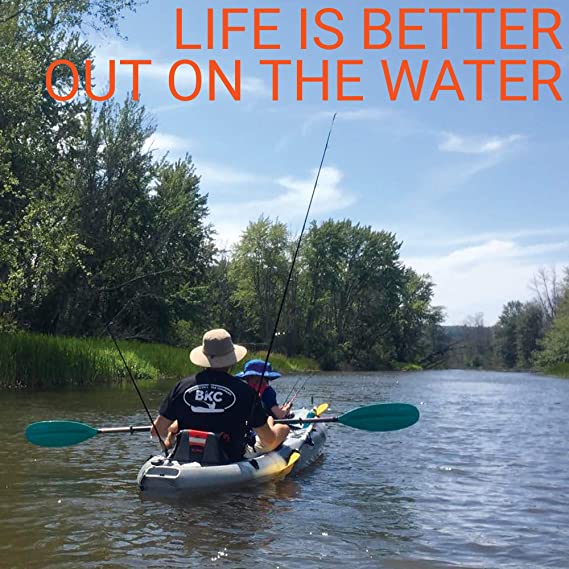 Large storage capacity
You should go fish ready! You want to take a lot of things when you are on a family excursion on water. Sunglasses, wallets, cellphones, cameras, keys, water bottles, food, extra dresses, etc. Sure take! You don't need to be tense for getting these wet anyway.
BKC TK181 12.5′ Tandem Sit On Top Kayak allows you to store all your stuff in its large storage hatches. Don't worry you don't need to fight for the storage space with your buddy, there's one for everyone!
This waterproof storage in front of both seats will keep all the fun dry. Also, there's an open cargo area with tie-downs at the back of the kayak for storing other stuff.
Multiple fishing rod mounts
You don't have to have a break from fishing when you'll get a little tired, hungry, or stiff. You can just troll for fish leaving the rod and move your body, stretch your back, eat, or anything leaving your hands free.
The equipped multiple fishing rod mounts allow you to enjoy all the freedom and fun with your gang and catch some delis food out of the water meanwhile. This model is unbeatable when it comes to useful features.
You may also like: Vanhunks Voyager Deluxe Kayak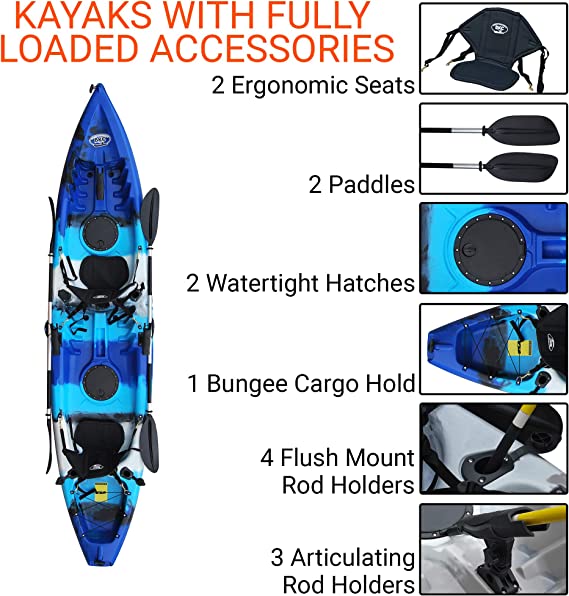 Most convenient accessories
BKC TK181 12.5′ Tandem Sit On Top Kayak is fully loaded with everything you need on an enjoyable fishing trip. Convenience – that is the word! You'll get every useful accessory with this model that will make your trip worth coming.
It comes with 2 padded seats as mentioned before, 2 adjustable aluminum paddles, 2 paddles parks, 6 built-in rod holders, 1 bungee cargo tie-down, and 2 waterproof hatches. They got all the necessary accessories checked for you!
Front and rear T-handles
It's made up of two T-handles in the front and back giving you the freedom to carry it easily and transport it quickly to your favorite waterholes. This kayak weighs 68 pounds, so the T-handles are blessings. Carry it with your partner and have all the fun on the water.
Excellent weight capacity
595 pounds – that's the big number you want to know! I was pretty amazed and impressed by testing out this model. 3 of you and all your stuff and fishes can easily float on the water keeping your feet down dry on this kayak. I promise you are going to love being on it every second. If a kayak can bring friends or family close making a wonderful memory, no doubt it is worth buying!
Crafted for durability
BKC TK181 12.5′ Tandem Sit On Top Kayak is constructed with single-piece Roto Molded High-density polyethylene material (HDPE). No wonder how it became a strong boy! It's impact and abrasion resistant keeping the paddlers safe and being the company in years of good memories. The UV-protected shell is crack or peel-proof making it super durable.
You may also like: Intex Explorer K2 Kayak
✅ Comes with an adjustable paddle
✅ Seating capacity of 3
✅ Super durable
✅ Multiple sturdy rod holders
✅ Sit-on-top
✅ Adjustable padded seats with backrests
✅ 2 waterproof storage hatch and an open cargo space
✅ Multiple rod mounts
✅ Front and rear T handles
✅ Excellent stability
✅ Lightweight compared to the other 2 seated ones
Personally, the color green camo didn't get my heart

It doesn't have any molded handles
FAQ-Section
Does this kayak come with a rudder?
No, it doesn't, but you can install one.
Does this kayak come with paddles and seats just as the pictures online?
Yes, they really came like that. You can change the seat if you don't like them.
Does this kayak support a transducer?
Yeah, it supports any fish finder.
Final words
I couldn't be happier after using the BKC TK181 12.5′ Tandem Sit On Top Kayak. It was exactly what I expected – does full justice to its price! Think as if It's an investment that brings only profit.
Unlike me, if Green Camo is a nice color to you, there's not a single feature on the kayak you are going to dislike starting from its seating capacity and comforts, so many rod holders, huge storage spaces, huge weight capacity, perfect proportion of width and length, so on and so forth.
This strong vessel will be a great addition to your storing collections! After doing months of paddling and looking deep into every corner of this piece, all I am going to say is – Get this adventure-ready piece, grab your homies, and start planning for vacays!