Introduction
One of the most enjoyable things to do during summer season is to go on a kayaking trip, either alone or with your friends and family members. Kayaking with a bunch of loved ones is not only fun but it also allows a person to enjoy nature from a personal level and get closer to it.
People usually take up this activity as a competitive sport, but you do not necessarily have to do that. For those looking for a hobby to indulge into, kayaking just might be the best deal for you.
However, how much you enjoy the activity can actually depend on the type and quality of kayak you row on.
You can either go seek kayaking facilities from a local nearby resort; for which you might have to pay a substantial amount of fee every time you want to row, or you can simply just invest into your own kayak.
The latter is obviously a better deal if you are someone who tends to go adventuring quite often. There are now tons of high quality kayaks out in the market, so it will not be too hard for you to get the best product out of the lot.
However, we decided to save you the guesswork and sum up an incredible kayak model instead.
Our Intex Explorer K2 Kayak Review will not only save you the hassle of having to individually look for a kayak, but it will also clear up a lot of your doubts regarding this kind of product in the first place.
So let us not waste any more time and get right into the review!
Intex Explorer K2 Kayak Review : Watch This Quick Video
Quick Summary
This yellow colored 2 person kayak is an inflatable one, meaning you can easily store it away into a compact space when it is not in use. You should always go for inflatable kayaks as they will allow you to have a lot of free space around the garage.
The intex explorer K2 kayak comes with a puncture resistant vinyl cover all around the body, thus making it next to impossible for tree branches and other debris to make a hole on the product.
You will find this kayak equipped with an inflatable I-Beam in order to make it easier for users to get onto the kayak from land. The I-Beam is very rigid, hence allowing you to even stand on it without having to worry about the kayak toppling over due to uneven weight distribution.
For quick inflation and deflation, this high quality K2 kayak comes with Boston valves attached to it.
Even though the product itself is very light weight (weighing only 30.60 pounds at most), it can easily withstand up to 400 pounds with complete ease. The skegs on this kayak are standard directional as well.
On top of that, you will also be receiving a repair patch with the purchase of this best K2 kayak, in case a hole or puncture does unfortunately develop on the body of the product.
With the purchase of this product you will also be receiving two high quality aluminum oars of 86 inches each, as well as an output pump for easy inflation of the kayak.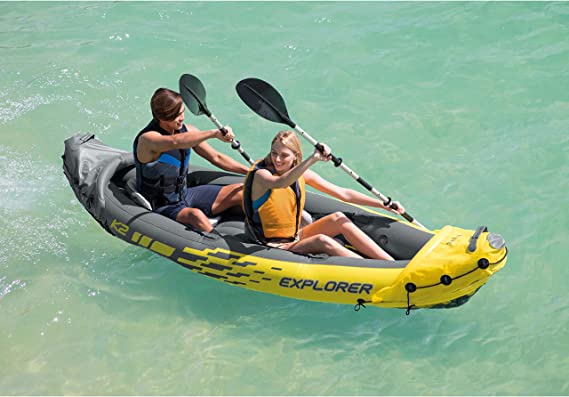 Note that this kayak is built especially for small rivers and lakes only, so make sure to not use it on violent water bodies. The body of the kayak is strong enough to withstand the mild pressure from rivers and lakes, however it cannot guarantee your safety on other water bodies.
Users Opinions
Judging from a third person perspective, this K2 kayak is actually one that you should definitely invest into if you want something high quality and worth showing off within a budget friendly price tag.
The K2 kayak comes with all the necessary gears and equipment's required to ensure your utmost safety, while also being very aesthetically pleasing to look at. The bright yellow color of the kayak is very easy to spot in the distance, making it easier for passerby's and river guides to spot you in case of an emergency arising.
Our users genuinely liked the idea of a kayak being equipped with removable standard directional skegs, as it gives the product the much needed balance and stability that it requires.
Other than that, the weight capacity and strength of the kayak is also noteworthy, thus making it a much desirable equipment to own in your inventory. Take this beauty out for a row if you want to spend some quality time with your loved one over a quiet and peaceful weekend by the shallow rivers.
Pros:
The kayak is very light weight and can easily be deflated to a much more compact size and built
High weight capacity makes it safe for people with a larger physique to row on
The output pump is easy to use and comes with the necessary instructions included
Bright yellow color of the kayak makes it much easier for guides to spot kayakers
Inflatable seats with comfortable backrest ensures optimal relaxation
Budget friendly purchase.
Cons:
Unfortunately this kayak does not come with a warranty description
You can only find this product in 1 size to choose from.
Final Words
Get this amazing K2 kayak for yourself or as a present for a loved one. This amazingly high quality kayak is budget friendly, strong and very durable.
A great feature about this product is its weight capacity. It is not easy to find a high quality inflatable kayak with such a high weight capacity, so we are really surprised with this deal (in a good way, of course).
You will definitely enjoy rowing on shallow water bodies with this kayak, as the product is very light weight itself. Thus, the built of it makes the product very easy to steer and direct even if the water pressure does tend to increase at times.
However, maintain proper caution and only use this kayak on shallow and moderately calm water bodies for the safest and best kayaking experience. Thanks for reading till the end!