Driftsun Rover 120/220 Review
Do you like to go solo or with a partner when kayaking? Going solo can be exciting and can give you peace of mind but going with a partner is more reassuring and makes exploring super fun.
Well, in this Driftsun Rover 120/220 review you'll see whether a single person kayak or an in-tandem kayak is what you've been looking for. In any case, the Driftsun Rover delivers above expectations quality and versatility.
Curious? We are too. So, let's check this vessel out further.
Features of the Product:
One person/two person inflatable kayak
300/600 pounds load capacity
22/28 pounds hull weight
1000D reinforced layered PVC
High-pressure drop stitch
3 PSI side tubes and 6 PSI floor
Whitewater rated
Primarily used for whitewater
The perfect kayak for the causal paddlers and the thrill-seekers alike. Whether you are keen on exploring tough white waters or just have a great time with friends and family on open flat waters this kayak should be a great choice.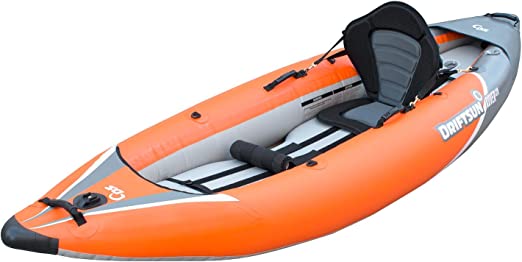 This is one of the most versatile kayaks out in the market today, built with high-quality materials, top-notch accessories, and workmanship like no other. Built by passionate paddlers and tested in rivers and lakes.
This kayak has a removable as well as adjustable EVA padded seat that's got high back support for your utmost comfort. Let's add in the removal and adjustable footrest as well and we can already hear your relaxing groan.
The ergonomic paddle grip is made out of anodized aluminum so you won't have any issues as you row and at the same time, you won't strain your hands that much. It's got four fixed handles so you can easily transport it.
Comes with a double deluxe hand pump, front action camera mount, removable rear tracking skeg, and a travel carry bag. Its flooring is drop stitched and is extremely rigid to give you confidence and peace of mind as you take on the roughest white waters.
It's got high-pressure valves and is made of hardware that is corrosion-resistant. The Driftsun rover 120/220 kayak is meant for class III as well as class IV rapids. It's rigid, lighter, responsive, and offers stability like no other.
Rock, logs, and any whitewater obstacles won't be a problem with double layers of protection and reinforced construction of this kayak. And most of all, this kayak can be inflated for 6 minutes for the 120 and only 9 minutes for the tandem 220 model.
User opinions:
Ø  Right off the bat, people are claiming that this is a kayak that's going to be worth it. The heavy-duty material is its best quality and stands out above the crowd of inflatable kayaks up to this point. Users are claiming that if you've used hardshell kayaks ever since then this should be a great inflatable model to switch to.
Ø  This is one tough kayak and people recommend it for tough waters. The seating is super comfortable and even if you spend all day in it and the water you won't have a significant kayak-related strain on you.
Ø  This kayak is pretty easy to use and operate. Especially when it's time to either inflate or deflate it. It's got heavy-duty air valves and the kayak itself is relatively easy to carry without any other assistance so it's perfect if you paddle on your own at times.
Ø  It's light and comfortable. You can ride with a partner or by yourself and you should be good to go.
Ø  Because of its weight and non-hard shell when floating on slow-moving rivers the kayak can run aground some rocks and you may have some issues getting off of it.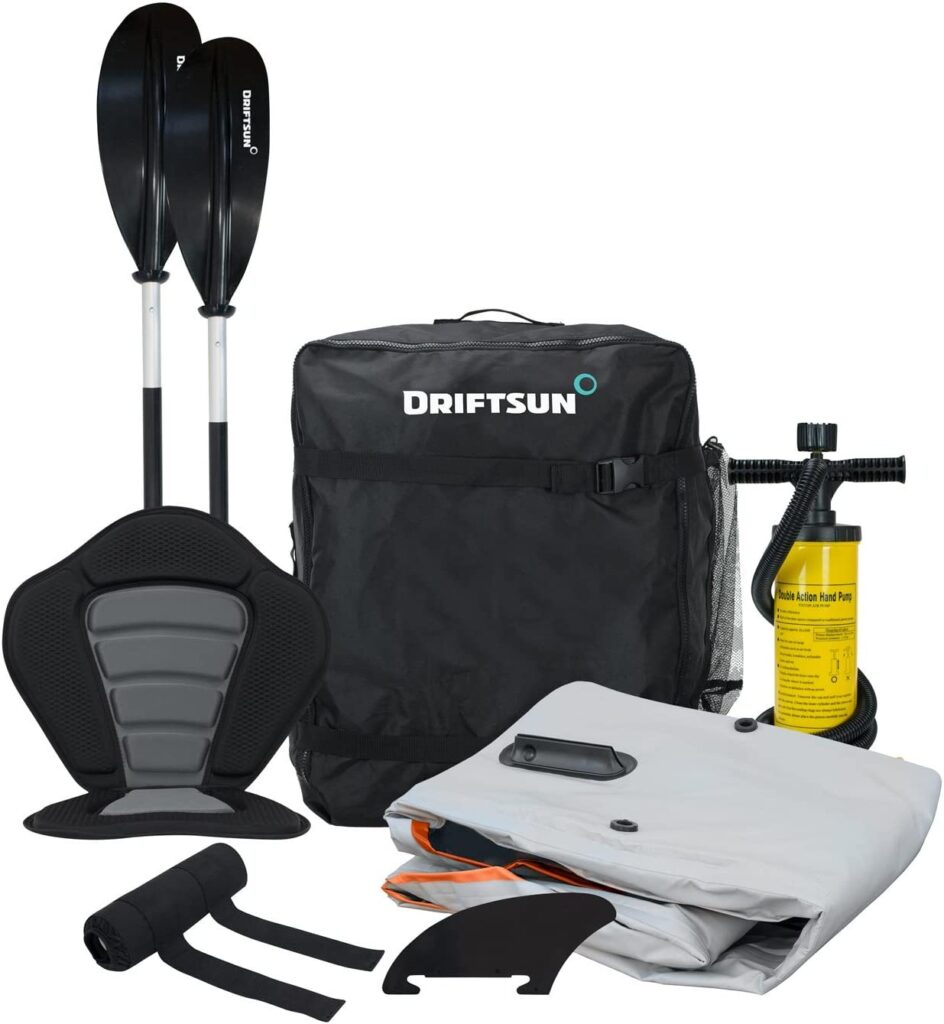 Great value for money
Pretty strong and durable material it is made of
Accessories and other things that you'd need would fit right in the kayak
Solid flooring that can withstand a beating from even the toughest white water
Very comfortable and durable adjustable seat
Seating is super comfortable even for larger individuals
Easy setup and ergonomic design
Can get a bit tight in terms of space aboard
Can leak air rather prematurely
FAQ-Section
Can you tell me more about the Driftsun brand?
The Driftsun brand has been synonymous with adventure for quite some time now. It was established in 2014 by thrill-seekers and they've been manufacturing kayaks, paddleboards, wake surfs, floating platforms, kneeboards, surf, and bodyboards. They even manufacture a few games, recreation materials, and even coolers.
Their products scream adventure, built for bodies of water, and the great outdoors. Quality, comfort, and versatility are also often the qualities associated with the brand's products.
What are the advantages of inflatable kayaks over non-inflatable models?
There are a lot of things to consider when choosing whether to get an inflatable or hardshell kayak. Hardshell kayaks are generally considered the more durable type so it would last for a very long time. They would though cost more as well.
Inflatable kayaks are of course more convenient. They are also easier to transport and to maintain as well as store. But based on our Driftsun review, nowadays inflatable kayaks are very well built and durable too.
What are the gears and essential equipment I should bring with me when kayaking?
Safety should be your priority when it comes to loading up yourself and your kayak with essential equipment. Make sure to wear your PFDs and helmets. Bring a whistle as well as flairs. And most of all, pack rescue equipment and your first aid.
Final words
Convenience, comfort, durability, and versatility. These are the qualities that the Driftsun Rover 120/220 possess and what you want to have if you want to have peace of mind and lots of fun in white waters.
It won't matter whether you are a pro or a casual kayaker as this product can surely accommodate your needs. Bring a friend, bring your family, and enjoy in peace and comfort aboard the Driftsun 120/220 rover white water kayak.